Staff
Mike Galanos – Facility Manager
Certified Crematory Operator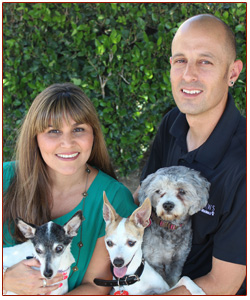 Mike is our Facility Manager and oversees all aspects of facility operations. A Certified Crematory Operator, Mike is a proven leader, and a key member of the Peaceful Paws family, he is certified by Matthews Cremation, Inc. to operate our IEB-32, Power Pak II and IEB-50 machines. Mike's wife, Adrianna, is our Office Manager. They are the proud parents of Melanie, Maddin and Mia (fraternal twins) and Mathias. A native San Diegan, Mike is a huge baseball fan. He spends most of his free time at the ball fields and also enjoys working on cars and household project.
Adrianna Galanos – Office Manager
Pet Loss and Grief Companioning Certified
Adrianna is the ultimate animal lover. She is a native of Southern California and has spent her career working in veterinary hospitals. Adrianna can often be found rescuing stray animals and finding them their Forever Homes. Her experience in the veterinary field has been an invaluable tool in helping pet parents with their grief. Adrianna is the proud mom of four young children. Her large pet family includes several dogs, cats, and turtles. In her free time, she enjoys spending time with family, watching her kids play baseball, and paddle boarding.