Custom Urns
You may choose from a wide variety of custom urns as a final resting place for your beloved pet. Please look over our catalog to explore the options we provide. Click here for pricing information. If there is an item that is not listed, please contact our offices for further information. Urns will be delivered directly to our facility for packaging and returned to you via your veterinarian.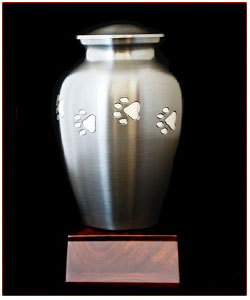 Memory Vessels
We have partnered with Memory Vessels to bring their unique and creative products to our families.

Patent pending jewelry combines two storage compartments along with a USB Flash Drive for storing digital copies of photos, videos and audio recordings. Unlike traditional keepsake jewelry that simply stores mementos, collectibles or cremated remains, Memory Vessels® also provide an opportunity to preserve and share the images and sounds of our lives.
"Buddies" Pet Keepsakes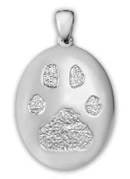 We are now offering "Buddies" beloved pet keepsakes. These unique items are crafted from your pet's actual paw print or nose print. Nose prints are unique to the pet as our fingerprints are unique to us. Please look over their brochure for their offerings.
Ordering is quite simple. These keepsakes are available for pets that remain with us or for those that have passed on. A simple close-up of the paw print or nose print is all that is needed to get started. If you have a clay paw print, a scan or photograph will work as well.
Memorialization Items
We offer a variety of items to help commemorate your special pet. Memorial Jewelry is one such item that can keep your pet's memory alive. A token amount of cremains or fur can be placed within the pendants. Additional memorialization items we are able to offer for the commemoration of your pet include woven blankets, beautiful glass ornaments, and Let Your Love Grow memorial plantings. Please click here for pricing, or contact us for further information.