Service Options
What is Cremation?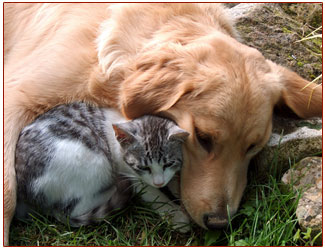 Cremation is a process by which the body is reduced to its basic elements using extreme heat within a cremation chamber. All organic matter is consumed by heat or evaporation. The remaining bone fragments are referred to as "cremated remains." These cremated remains are then carefully removed from the cremation chamber for scattering or return to pet parents.
Service Options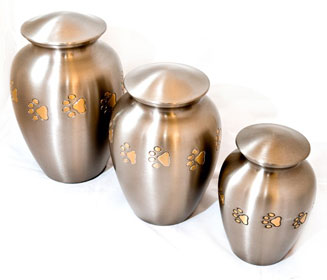 Dear Peaceful Paws Clients~
Peaceful Paws is a proud member of the Pet Loss Professionals Alliance (PLPA). One of the many goals of the PLPA is to set definitions and standards within our industry. By doing this, the PLPA hopes to further create, and foster, positive client relationships and set high ethical standards. At Peaceful Paws, we have always believed in 100% transparency in every aspect of our business.
As such, in order to remain in compliance with the PLPA, there have been some changes to the verbiage we will be using to define our cremation procedures. These definitions will take effect immediately. The changes are outlined below for your review.
Finally, we want to emphasize that no changes have been made to the process itself. If you have had a pet that was previously "privately" cremated, you will receive the same service. The only changes made are to the terminology used.
We encourage you to visit the PLPA website to further information - www.iccfa.com/groups/pet-loss-professionals-alliance
Individual Cremation – One Pet at a Time Cremation Process
This is a cremation procedure during which only one pet is present in the cremation chamber during the cremation process. The pet in uniquely identified throughout the whole process. The cremated remains of your pet are the only remains processed and returned.
Partitioned Cremation – (Formerly Referred to as "Private")
A cremation procedure during which more than one pet is present in the cremation chamber and the cremated remains of specific pets are returned to their pet parents. There is a form of separation between each pet, thus keeping the cremated remains both identifiable and retrievable.
Communal Cremation
A cremation procedure in which multiple pets are cremated together without any form of separation. Cremated remains are not returned to the pet parent but scattered off the coast of San Diego.
What Does the Cost of Cremation Include?
Transportation
Bamboo Urn
Clay Paw Print – Made from your pet's actual paw*
Personalized Name Tag for customers to place on urn
Fur Clippings by request only
Regency Sympathy Card
Frequently Asked Questions
Why "Cremated Remains" Instead of Ashes?
Utilizing the term "ashes" does not correctly describe the final product after cremation. During the cremation process, the ambient temperature of the cremation chamber averages 1700 degrees. What we are left with are bone fragments or "cremated remains." The remaining bone fragments are then processed to create a finer material similar in consistency to sand. The cremated remains may contain various shades of gray. In addition, green, blue, red and yellow organic particles may be visible in the cremated remains.
What Happens to Communal Cremated Remains?
We partner with a veterinary-specific company that scatters the cremated remains off the coast of San Diego. Should this option be chosen, you can be assured that your pet is receiving a dignified farewell at sea.
Can I Witness the Cremation?
Absolutely. We believe in complete access and maintain an open door policy. You may request a visitation before the cremation or witness the actual cremation for additional peace of mind.
How Can I Be Sure I am Receiving My Pet's Cremated Remains?
We have implemented many checks and balances to ensure accuracy during every moment your pet is in our care. A unique identification number accompanies your pet every step of the way and written logs and signatures are required before the next step is taken. We abide by strict policies and procedures. Further, we are members of a number of organizations that govern our standards and ethics. These organizations include the Pet Loss Professional Alliance (PLPA); International Cemetery, Crematory and Funeral Association (ICCFA); International Association of Pet Cemeteries and Crematories (IAOPCC); and the Cremation Association of North America (CANA). We are also monitored and permitted by South Coast Air Quality Management District (SCAQMD) to ensure that our operations comply with all environmental standards.
Do You Return Medical Implants with the Cremated Remains?
No, we do not return medical implants (e.g., joint replacements) with the cremated remains unless specifically requested to do so.
After the cremated remains are removed from the cremation chamber, all non-combustible materials such as metallic orthopedic implants, surgical pins, screws, etc., will be separated and removed from the bone fragments by visible or magnetic selection. We have partnered with Alternative Solutions USA, a 501 (c) (3) non-profit implant recycling program, organized and operated exclusively to generate financial support for local and national US charitable organizations.
Can Toys, Blankets or Other Items be Cremated with My Pet?
We abide by strict environmental standards and are closely monitored by regulatory agencies regarding our emissions. Because of this, we do not allow plastic toys, balls, etc. to be cremated with your pet. We will allow small swatches of beds or blankets made of natural fibers to be cremated with your pet.
Do You Offer a "Split Cremation" Option?
Yes. Your pet will be cremated per our usual protocols and you will receive duplicate urns, paw prints, and engraved tags. This option is frequently requested for families, siblings or co-owners of the pet. Additional fees do apply. Please contact us for further information.
Paw Print Information
The paw printing process is quite labor intensive. Typically, we use the front paws to make the impression. A special type of clay is used and kneaded to the desired consistency. Once the impression is made, the paw print is heated in an oven, allowed to cool before being sanded and painted. Many factors influence the outcome of the paw print. Ambient and clay temperatures are just a couple of the components that impact the quality of the impression. In addition, we do not trim the fur or nails from the paw. We feel that is part of the pet's print and we do not want to compromise its integrity.